Threads Video Downloader
Download Threads Videos, Photos & GIF Online
---
Copy the Threads video URL by clicking Share and choosing Copy Link
Paste the Threads video URL in the box above and hit the Download button.
Click Download Video (HD) to download Threads Mp4 video
What is ThreadsMate - Threads Video Downloader?
ThreadsMate is an online tool helping you download Threads videos in a few easy steps for free. Save Threads videos with the best quality in an MP4 file format with HD resolution. Our Threads Video Downloader is secure, efficient, and requires no extra installations. You only need a Threads video link to paste in the input field on the ThreadsMate website to download and enjoy offline!
Features
Threads Downloader to download Threads video online.
Always stable and user-friendly, continuously updated for the best experience.
No need to download extension, Instead try our PWA (Progressive Web Apps) feature for best experience.
Download Threads video using your browser only. No extensions needed.
Support all browsers and personal devices such as phones, computers and tablets.
Download Threads videos with Full HD quality.
Easy to Use, Fast and always free.
ThreadsMate offers you a straightforward and efficient way to download Threads videos 100% FREE.
How to download Threads Videos online?
Open the Threads app or website in your browser.
Locate the video you want to save for offline use.
Tap on the Share button below the video.
Select 'Copy Link.'
Visit the ThreadsMate.com Threads Video Downloader.
Paste the Link into the provided input field that prompts "Paste URL from Threads."
Click the Download button on the right to download video.
Download Threads video to your device.
ThreadsMate application applies PWA technology
Progressive Web App features helps you experience the ThreadsMate in the most efficient and time-saving way. This app supports Android and iOS operating systems, but the installation method is different, please read the following steps:
For Android OS
Use Google Chrome to access ThreadsMate.com
Click the "Add to Home Screen" button in the corner of the screen
Click Install button to install ThreadsMate App on your device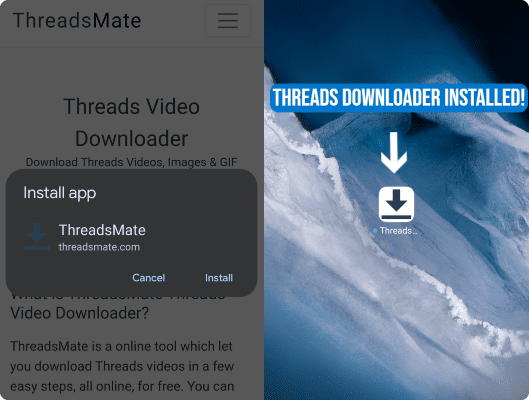 For iOS Operating System (Iphone, Ipad)
Use Safari to access ThreadsMate.com
Click the "Share Extension" button in the toolbar
Click "Add to Home Screen" to install ThreadsMate app
FAQ
Not at all! ThreadsMate is a 100% free tool, allowing you to download Threads videos without any fees involved.
No, there's no need for any extensions with ThreadsMate. Our platform operates online, so you simply need to paste the video link into our Threads downloader. No extra installations or add-ons are necessary!
Because of Apple's privacy rules, for iOS 12 and earlier, you can't save Thread videos to your iPhone. You need to update iOS to the latest version so you can use Safari and start the Thread video download process. If you're still unable to save them, refer to the instructions above.
Yes, you can use threadsmate.com to save Thread videos and photos on your Android phone with our Threads downloader app. Our service is completely free.
No, there are no limits on Threads video downloads. Feel free to download as many Threads videos as you need!
Absolutely! ThreadsMate is a web-based tool, which means you can use it on any device with an internet connection and a web browser, including smartphones, tablets, and PCs.
Yes, ThreadsMate lets you choose the quality of the video before downloading, including HD options when available.
Our ThreadsMate Video Downloader allows you to download videos in various formats including MP4, AVI, and more.
Yes, we ensure a secure environment. We do not store any data from our users nor do we keep copies of downloaded videos.
No, Threads Downloader tool can only download videos, photos and GIFs from public accounts on Threads due to privacy issues.